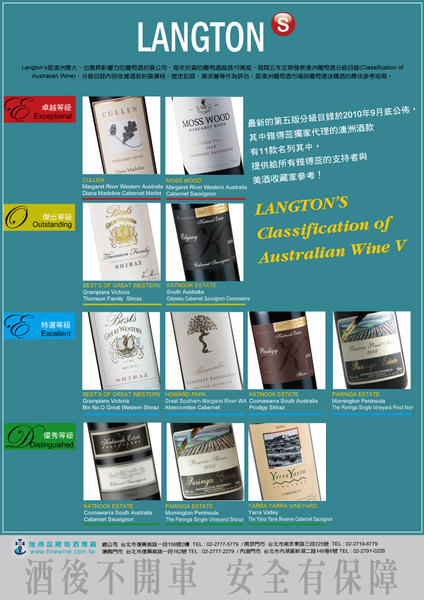 Langton's是澳洲最大、也最具影響力的葡萄酒拍賣公司,每年拍賣的葡萄酒超過10萬瓶,每隔五年定期發表澳洲葡萄酒分級目錄(Classification of Australian Wine),分級目錄內容依據酒款拍賣價格、歷史記錄、需求量等作為評估,是澳洲葡萄酒市場與葡萄酒迷購酒的最佳參考指南。
最新的第五版分級目錄於2010年9月底公佈,其中雅得蕊獨家代理的澳洲酒款有11款名列其中,提供給所有雅得蕊的支持者與美酒收藏家參考!
LANGTON'S Classification of Australian Wine V
Class 1-卓越等級 Exceptional
1-1

CULLEN
Margaret River Western Australia
Diana Madeline Cabernet Merlot

2007年-NT$4,600

2008年-NT$4,500

評價 / James Halliday 97 分 
製造商 / Cullen Wines 庫倫酒莊
產地 / 澳洲 西澳
葡萄品種 / Cabernet Sauvignon 71%, Merlot 19%, Petit Verdot 5%, Cabernet Franc 3%, Malbec 2%
Tasting Note/
 紅寶石略帶磚紅色澤,帶有黑色漿果、巧克力等複雜的香氣,口感優雅香醇,呈現濃郁的黑色漿果氣味,單寧滑順細緻,餘韻持久而香醇。窖藏潛力達20年以上。
酒精濃度:14%

Diane Madeline Cabernet Merlot is one of Australia's greatest Cabernets with beautiful poise, extraordinary fruit definition and refined tannin structure. In 1966 Dr. Kevin and Diana Cullen planted a trial one acre (0.4 hectare) vineyard on their sheep and cattle property at Wilyabrup in the Margaret River. The vineyard now extends to roughly 28.5 hectares. In 1989 daughter Vanya Cullen, a Roseworthy trained winemaker, assumed prime winemaking responsibilities. Her eye for detail and no compromise approach has seen Cullen Cabernet Sauvignon-Merlot grow significantly in stature over the last fifteen years. In 2001 it was named Diana Madeline in honour of Diana Cullen, Vanya's mother and winemaker-in-arms for nearly two decades.

The exemplary vineyard site is located in the central Wilyabrup sub-region of Margaret River. The Cabernet Sauvignon vines were planted in 1971 on ancient granitic soils. Vanya Cullen believes that the Scott Henry trellis system is a critical factor in achieving supple tannin structures and a pure dark fruit profile. In recent years Cullen has adopted biodynamic viticulture to "achieve greater individuality of site through working with nature rather than against it".

The grapes are hand-picked on optimum ripeness and flavour development. Between 10 and 50% of the wine is partially barrel fermented; the rest is given extended maceration before further maturation in 30% new, tightly-grained French oak. Since implementing biodynamic practices the wines seem to have reached a new level of quality and interest. The colours are more vibrant and inky and the aromas beautifully pitched with blackcurrant pastille/ dark cherry fruit and violet camomile notes. Palate structures are supple, fine grained and lacy with plenty of plummy/ cassis flavours and savoury/ cedar new oak.

Typically the Cabernet component is pristine with classic tannin structures and the Merlot is plummy and soft. A small proportion of cabernet franc (dense and sweet) Malbec (spicy and rich) and Petit Verdot (deeply concentrated and liquorice) add further complexity. While the wines are seductive when young, they have a reputation for developing further complexity while maintaining lively, dark fruits on the palate.

Top Vintages

2009, 2008, 2007, 2005, 2004, 2002, 2001, 1999, 1998, 1997, 1996, 1995, 1994.

Andrew Caillard MW, Langton's
1-2

MOSS WOOD
Margaret River Western Australia
Cabernet Sauvignon

2006年-NT$4,900

2007年-NT$5,000

評價 / James Hallyday 90 分
製造商 / Moss Wood 慕絲森林酒莊
產地 / 澳洲 西澳
葡萄品種 / Cabernet Sauvignon
Tasting Note/
 年輕明亮的深磚紅色,帶有深色果實、成熟紅醋栗、巧克力、桑椹,以及隱約的土壤、巧克力、全麥麵包等香氣,並混合著細微的樟腦與石蠟味道,後段香氣則以橡木結合了燻烤、香草、西洋杉、與削鉛筆芯等氣味為主。口感仍以呈現新鮮水果氣味為主,成熟紅醋栗、桑椹等提供了香甜的中段口感,熟成的細緻單寧讓水果香氣更加持久滑順,餘韻展現出持久且複雜的巧克力、咖啡、香柏、橡木等香氣。
酒精濃度:14%

Moss Wood, at Wilyabrup in Margaret River, can boast one of the choicest and most beautiful vineyard sites in Australia. Moss Wood Cabernet Sauvignon, first vintaged in 1973, is renowned for its elegance, restrained power and site specific aromas and flavours. It is extremely perfumed and finely structured with cassis-blackcurrant aromas, hints of cedar and touches of violet. The oak and fruit are very neatly balanced. With proven aging potential the wine develops subtle earth/demi-glace briar characters on the bouquet, and complexity and suppleness on the palate.

Dr. Bill Pannell, one of Margaret River's early pioneers, established Moss Wood in 1969. By the early 1980s the Cabernet Sauvignons were regarded as something very special. Keith Mugford, who began as an assistant winemaker, and his wife Clare purchased the property in 1985. They have taken Moss Wood to the pinnacle of Australian Cabernet Sauvignon.

The unirrigated and widely spaced 11.78 hectare vineyard is planted on gentle north-east facing slopes with sandy loams to a gravelly red/brown loams over clay. The combination of site, vineyard management and soil conservation has been the key to ultimate fruit quality. Keith Mugford believes "the quality and personality of wine is largely determined by vineyard". He has instigated a long term programme of improved and sustainable viticulture. While he has not gone as far as biodynamic, he does work to conserve soils including deep cultivation, the use of cover crops and minimum tillage and mulching.

Longer skin contact time during fermentation and a change in encépagement with the inclusion of Cabernet Franc, Petit Verdot and Merlot in the blend has made the wine deeper in colour, more perfumed and textured. Since the 1996 vintage, all Moss Wood Cabernet Sauvignon sees extended oak ageing of 24 months in French oak barriques.

Typically the fruit is hand-picked, de-stemmed into open tanks and hand-plunged four times a day until completion of fermentation. At the end of vinification the wine is allowed to macerate for around 10 to 14 days prior to pressing off into barrel. The wine is usually assembled after a year and then racked back into barrel as a final blend for another year before bottling. Moss Wood is a strong proponent of the use of screw caps. Approximately 70% of the vintage is now bottled with this closure.

Top Vintages

2009, 2008, 2007, 2005, 2004, 2002, 2001, 1999, 1997, 1996, 1995, 1994, 1992, 1991, 1990, 1987.

Andrew Caillard MW, Langton's
Class 2-傑出等級Outstanding
2-1

BEST'S OF GREAT WESTERN
Grampians Victoria
Thomson Family Shiraz

2005年-NT$7,200

評價 / James Halliday 95分
製造商 / Bests Winery 貝斯特酒莊
產地 / 澳洲 Victoria
Tasting Note/
來自珍貴稀少的百年老藤所釀造的酒款,酒色呈現集中的富貴紫紅色,豐富的香料香氣感動鼻息,高度酒體,充滿藍莓漿果的香氣與口感,細緻的酸度支撐酒體結構,絲緞般的單寧餘味持久,香醇極致。適合搭配燒烤/紅肉料理。建議窖藏12-25年。酒精濃度:14.4%

Frederick Thomson purchased Best's Concongella Vineyard at Great Western in 1920. The particularly rare Best's Thomson Family Reserve Shiraz is one of Victoria's greatest wines and represents a window to Australia's winemaking past. Like Henschke Hill of Grace and Penfolds Block 42 in the Barossa Valley, the Best's Concongella Vineyard 1866 plantings at Great Western belong to Australia's rich heritage of ancient genetic and pre-phylloxera vineyards. The vines are cropped at less than four tonnes per hectare and are then meticulously hand-harvested, selected and sorted.
It is produced predominantly from 15 rows of "Concongella Clone" Shiraz vines planted by Henry Best. It is a rich, generous wine with brilliant blackberry meaty fruit underpinned by cedar oak and muscular, gravelly tannins. The wine is open-fermented in small tubs and then matured in an equal combination of new and old French oak for approximately 24 months. While first released in 1992, to commemorate a century of winemaking at Best's, this wine is a particularly special experience. It was not produced in 1993, 1999, 2000, 2002, 2003, and 2007 reflecting the extreme vicissitudes of grape growing. The severe frosts in October 1998 reduced the 1999 crop dramatically. 1999 Best's FHT Shiraz, matured in American oak puncheons, is a blend of Thomson Family and parcels of Bin 0 Shiraz. In 2000 the vines simply ran out of steam because of drought conditions.

Top Vintages

2008, 2006, 2004, 2001, 1998, 1997, 1996, 1995, 1994, 1992 Not made in 2007, 2003, 2002, 2000, 1999 & 1993.

Andrew Caillard MW, Langton's
2-2

KATNOOK ESTATE
South Australia
Odyssey Cabernet Sauvignon Coonawarra

2003年:NT$3,800

2004年:NT$3,800

評價 / James Halliday 91 分
製造商 / Katnook Estate 佳諾酒莊
產地 / 澳洲 南澳
葡萄品種 / Cabernet Sauvignon
Tasting Note/
 帶有深紅李略紫紅色澤。呈現豐富而複雜的成熟水果與熟成橡木的香氣,帶有濃郁桑椹、成熟李子與黑橄欖香氣,混和著香甜香草豆、煙燻、以及燒烤咖啡與橡木的氣味。口感具十足複雜性,帶有以成熟水果與橡木為基調的口感結構,以及濃郁桑椹、成熟李子、香草、以及來自長期橡木陳年的巧克力氣味。單寧細緻、香醇而餘韻持久。
酒精濃度:14.5%

The historic Katnook Estate was originally owned by John Riddoch, the founding father of Coonawarra and the Coonawarra Fruit Colony. In the early 20th century, the Estate fell to pasture until 1970, when vines were once again planted. In 1979 the first commercial vintage for over 80 years was produced by current winemaker, Wayne Stehbens. Katnook manages a rich canvass of vineyards (98 hectares) and the oldest blocks comprise either a two-wire system to promote a sprawling canopy or a single spur cordon.
Vertical shoot positioning is preferred with the younger vineyards. The concentrated and powerful Odyssey is selected from the most outstanding parcels of intense Cabernet fruit, from specific vineyard rows planted on rich clay terra rossa loams over a thick hard layer of limestone. After vinification in small batch fermenters, maturation takes place over approximately 36 to 40 months in a combination of new French and new American barriques. Some parcels are "double oaked" to increase flavour complexity.
The maturation regime is intuitive to the character of the vintage. Stehbens describes the overall style as "a wine with ripe, rich fruit combined with complex oak and barrel matured flavours". This highly prized Coonawarra wine is a benchmark style with beautifully intense, pure, blackcurrant aromas, mocha oak complexity, superb volume and dense chocolaty tannins. The Odyssey verges on the essence of Coonawarra style yet manages to achieve remarkable balance and minerality.

Top Vintages

2006, 2005, 2004, 2001, 2000, 1998, 1996, 1994, 1991 Not made in 2007, 1995 & 1993.

Andrew Caillard MW, Langton's
Class 3-特選等級 Excellent
3-1

BEST'S OF GREAT WESTERN
Grampians Victoria
Bin No.O Great Western Shiraz

2003年:NT$2,900

2008年:NT$2,900

評價 / James Halliday 95分
製造商 / Bests Winery 貝斯特酒莊
產地 / 澳洲 Victoria
葡萄品種 / Shiraz
適飲期 / 在貯存良好的情況下可窖藏10年以上
Tasting Note/
 濃郁的水果風味,口感強勁但優雅,適合搭配較重口味的食物,例如小羊排。
酒精濃度:14%

Best's Great Western Bin No 0 Shiraz is arguably Australia's oldest trade-marked fine wine label. The wine is sourced from four low yielding Concongella Shiraz blocks established in 1966, 1970, 1992 and 1994. These vines are all planted in free draining Stawell granitic gravels and sandy loams. Fermentation takes place in open stainless steel fermenters. It is then matured in a combination of 1/3 new and one and two year old French and American oak (barriques and puncheons) for around 12 months. Bin No.0 has intense mulberry/ dried rose aromas, background oak and loose-knit gravelly tannins developing further complexity with medium term cellaring.

Top Vintages

2006, 2004, 2003, 2000, 1998, 1996, 1992, 1991, 1990.

Andrew Caillard MW, Langton's
3-2

HOWARD PARK
Great Southern-Margaret River WA
Abercrombie Cabernet

2007年:NT$3,900

評價 / James Halliday 95 分
製造商 / Howard Park 霍華公園酒莊
產地 / 澳洲 西澳
葡萄品種 / Cabernet Sauvignon 100%
Tasting Note/
 帶有濃郁的黑醋栗、燻烤蕃茄、以及隱約的古巴雪茄等香氣,呈現典型的澳洲Great Southern產區與Margaret River產區的混合特色,口感以香草與橡氣味為基調,層次豐富多變,餘韻紮實而優雅。
酒精濃度:14%

The important multi-vineyard, multi-regional Abercrombie Cabernet derives principally from the Great Southern Region. The Mount Barker vineyard, planted in 1975, is north-facing, well ventilated and planted on lateritic soils, mostly gravely loams and deep clays. It represents the "structural soul" of the wine. The Margaret River fruit component adds weight and texture. The wine is vinified in open top fermenters and some components are barrel fermented. The medium-bodied Abercrombie is beautifully pitched with intense cassis/ dark chocolaty aromas, plenty of fruit sweetness, underlying savoury oak, fine-grained tannins, vinosity and flavour richness.

Top Vintages

2009, 2008, 2007, 2004, 2001, 1999, 1998, 1996, 1994, 1992, 1987. Not made in 2006.

Andrew Caillard MW, Langton's
3-3

KATNOOK ESTATE
Coonawarra South Australia
Prodigy Shiraz

2005年:NT$3,800

評價 / James Halliday 91 分
2009 Decanter World Wine Award - Bronze
製造商 /

Katnook Estate 佳諾酒莊




產地 /

澳洲 南澳


葡萄品種 / Shiraz
Tasting Note/


 帶有深紅寶石略紫色澤。呈現豐富而複雜的成熟水果香氣,帶有誘人的成熟覆盆子、李子、與甘草氣息,特殊的香草橡木、與咖啡豆氣味更增添了水果香氣的複雜度。口感具豐富層次感,成熟的水果氣味與橡木香氣完美地結合,還有濃郁的覆盆子、李子、甘草、以及持久的胡椒氣味。單寧細緻、滑順且持久。
酒精濃度:14%
Katnook Estate Prodigy Shiraz, the later-ego of Odyssey, was first produced from young vines in 1997 and won the prestigious Jimmy Watson Trophy at the Royal Melbourne Wine Show in 1998. The fruit is predominantly drawn from a single vineyard plot planted on classic terra rossa over limestone soils. The wine is small batch vinified in stainless steel fermenters. It is pressed off into a combination of new French, new American and seasoned barriques for 24 to 30 months maturation. It is a plush dense wine with lovely roasted coffee aromas, supple sweet chocolaty tannins and balanced rather than full-on new oak.

Top Vintages

2006, 2005, 2004, 2002, 2000, 1999, 1998, 1997 (Jimmy Watson Trophy winner). Not made in 2007 & 2001.

Andrew Caillard MW, Langton's
3-4

PARINGA ESTATE
Mornington Peninsula
The Paringa Single Vineyard Pinot Noir

2007年:NT$3,700

評價 / James Halliday 96 分
製造商 / Paringa Estate 帕霖佳酒莊
產地 / 澳洲 Victoria
葡萄品種 / Pinot Noir
Tasting Note/
 帶有複雜的花朵及黑櫻桃香氣,與天然橡木氣味達到完美平衡,口感帶有濃郁的黑櫻桃與深色漿果、以及橡木馨香,細緻紮實的單寧提供酒款良好的厚度與結構。窖藏潛力極佳。
酒精濃度:14.5%

The gorgeously scented, superbly balanced and silken (Reserve) Pinot Noir, christened in 2008 as "The Paringa", has become one of Australia's most admired Pinot Noirs. The unirrigated low yielding single vineyard, is trellised using a Lyre system; the canopy is divided to optimise light penetration. This system has been "the single most important factor in producing our consistently high quality fruit". After a cold soak of three or four days vinification takes place in small stainless steel open fermenters. Maturation takes place in 70-100% new French oak barriques for around 10 to 11 months. This a benchmark style with fresh black cherry/ ginger aromas, superb buoyancy of fruit, supple tannins and savoury oak nuances.

Top Vintages

2009, 2008, 2007, 2006, 2005, 2004, 2003, 2001. Not made in 2002.

Andrew Caillard MW, Langton's
4.優秀等級Distinguished
4-1

KATNOOK ESTATE
Coonawarra South Australia
Cabernet Sauvignon

2004年:NT$1,600

評價 / James Halliday 92分
    2008 Decanter World Wine Award - Bronze
製造商 /

Katnook Estate 佳諾酒莊




產地 /

澳洲 南澳


葡萄品種 / Cabernet Sauvignon
Tasting Note/


 酒款呈現深色李子色澤、邊緣帶微紫。複雜而迷人的橡木甜香、成熟李子、桑椹、香草、以及隱約的巧克力香氣。口感複雜,有深色漿果、香甜李子、香草、與巧克力的味道,在濃郁水果香氣、典雅橡木氣味、與細緻單寧間達到極佳平衡。餘韻持久而滑順。
酒精濃度:14%
Katnook Estate comprises 94 hectares of prime cabernet sauvignon vineyards. Many of the plantings, mainly on classic terra rossa soils over limestone and sandy loams and transitional dark clays, were established around 1970. The wine is matured in new (30%-40%) and seasoned French oak for around 22 to 24 months. Varietal definition and regional expression is captured through meticulous selection of vineyard components, instinctive oak maturation and blending. Katnook Estate Cabernet Sauvignon typically shows intense blackcurrant mulberry aromas, generous pure-fruit flavours, finely grained tannins, underlying mocha notes and plenty of flavour length.

Top Vintages

2010, 2009, 2008, 2006, 2004, 2002, 2000, 1999, 1998, 1996, 1991, 1990, 1988, 1986.

Andrew Caillard MW, Langton's
4-2

PARINGA ESTATE
Mornington Peninsula
The Paringa Single Vineyard Shiraz

2006 Paringa Estate Shiraz NT$2,700

2005 Paringa Reserve Shiraz NT$4,400

評價 / James Halliday 95 分
製造商 / Paringa Estate 帕霖佳酒莊
產地 / 澳洲 Victoria
葡萄品種 / Shiraz
Tasting Note/
 帶有帕霖佳酒莊特有的黑胡椒與天然香料氣味,以及堅實的Viognier葡萄香氣,口感結合了濃郁的黑莓與李子氣味,細緻紮實的單寧將隨陳年時間更加豐富香醇。即飲風味佳,窖藏後更添風味。
酒精濃度:14%

The beautiful "The Paringa" Single Vineyard Shiraz (formerly known as Reserve Shiraz) is an outstanding foil to the richly proportioned shirazes of South Australia. Winemaker, and former school teacher, Lindsay McCall possesses a rare Midas touch. At completion of vinification the wine is pressed off into new French oak barriques for a period of around 15 months maturation. The "Paringa" Single Vineyard Shiraz, with it's pure blackberry pastille/pepper aromas, richly concentrated flavours, fine persistent chocolaty tannins, roasted/ mocha notes, clarity and vinosity, is a selection of "the best new barrels from estate-grown fruit". It epitomises power, generosity and elegance. The best bottlings will last beyond ten years.

Top Vintages

2009, 2008, 2007, 2006, 2005, 2004, 2003, 2001, 2000. Not made in 2002.

Andrew Caillard MW, Langton's
4-3

YARRA YARRA VINEYARD
Yarra Valley
The Yarra Yarra Reserve Cabernet Sauvignon

2004 Yarra Yarra Cabernets NT$3,660

製造商 / Yarra Yarra Wines 亞拉亞拉酒莊
產地 / 澳洲 Victoria
Tasting Note/
 這款酒33%使用新的法國橡木桶,其餘則使用舊橡木桶來增加酒款均衡度,帶有紫羅蘭、紅色水果等香氣,相較於酒莊的頂級酒款「The Yarra Yarra」,這款酒更加平易近人且易飲。
 酒精濃度:13%

The dry-grown Yarra Yarra Vineyard lies on gravelly north-facing slopes in the northern Yarra Valley. The three hectare Cabernet Sauvignon vineyard spreads across a series of undulations: Sarah's Hill, Phoebe's Hill and Charlotte's Hill are named after winemaker Ian and Anne Mclean's daughters. The fruit derives largely from the mature low-vigour Sarah's Hill block. Winemaking philosophy is "let the grapes talk and treat them gently and with respect". After traditional vinification the wine is matured in 50% new and seasoned French oak barriques for around 24 months. Cassis/ mulberry/ cedar aromas, fine grained tannins, beautiful concentration and underlying savoury oak typify the style.

Top Vintages

2010, 2008, 2005, 2004, 2003, 2002, 2000, 1999, 1995, 1994, 1991, 1990.

Andrew Caillard MW, Langton's
業務聯絡人:鄭小姐(Cathy Cheng ) / 電話:02-2777-5779 分機160
e-mail: wine@finewine.com.tw
雅得蕊提醒您「酒後不開車‧安全有保障」