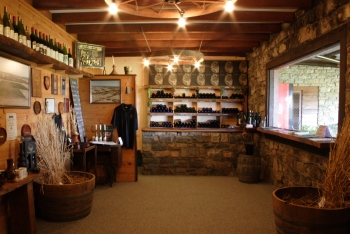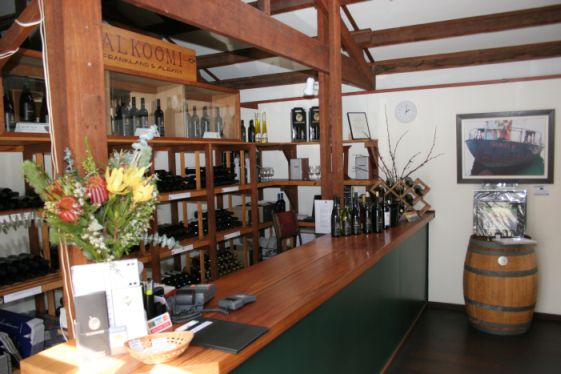 In the vast Great Southern of Western Australia sprawls the cool and sunny wine region of Frankland River. Here tucked away from it all, amidst wide open country and rolling hills, enjoying classic, deep, gravelly loam soils, lies Alkoomi, one of Australia's most remote wineries, 330 kms south of the capital city of Perth.
Not surprisingly, considering the tyranny of distance, this vibrant, young wine region emerged relatively, in the early 1970s. It's no coincidence that Alkoomi is of the same age, for it was Alkoomi's founders Merv and Judy Lange who pioneered the region.
Back in the late 1960s the Langes were running a large sheep property when the wool price crashed. Desperate to find a cash crop to survive, they recalled that Californian Viticulturist Dr Harold Olmo had recommended the area for vines in 1956 and that legendary West Australian winemaker Jack Mann had concurred.
So in 1971 at "a place we chose", on land over two million years old, in a tiny corner of their property on rolling hills and at an altitude of 360m above sea level, around 80 kilometres inland from the far south coast, Merv and Judy planted just one hectare of Cabernet Sauvignon.
After all, Dr Olmo had identified that the climate and deep well-drained soils (gravelly loams) were similar to those of Bordeaux in France.
The long, cool ripening conditions were perfect for producing grapes of intense varietal character.
The Langes proved the good doctor right, but not before enduring early setbacks. Frost decimated most of the rootlings in 1971, so the first real crop of 4 tonnes of Cabernet Sauvignon, Riesling and Malbec was in 1976.
Alkoomi Icon Label
Alkoomi's super premium trio are made only from the oldest blocks where the vines are most over 35 years old. There older vines produce outstanding fruit with great intensity and concentration. Matured in selected French Oak barrels, these iconic wines are named after the ancient eucalypt trees found at Alkoomi; Wamdoo, Jarrah and the rare Blackbutt.
Wandoo Semillon

Tongue tingling, fine lemony mineral flavours, subtly integrated with silky oak tannis, produce a delicious wine, drinking well for at least five years. A vivacious dining partner for seafood, chicken and fish.

Jarrah Shiraz

30 year old Shiraz vines give up their magic for this voluptuous yet finessed Shiraz with its layers of sweet red fruits and soft chocolatey tannins. A very versatile food partner, but totally comes into its own with rare beef and rich game.

Blackbutt

An opulent blend of the very best Cabernet Sauvignon, Malbec, Cabernet Franc, Merlot from each vintage. Seductively deep, velvety dark and with a huge finish of red and black cherries, chocolate and vanillin. Rich game meats and cheese come to delicious life alongside Blackbutt.
Alkoomi Black Label
Alkoomi's premium range of Shiraz Viognier, Cabernet Sauvignon, Chardonnay, Sauvignon Blanc, and Riesling. Quality wines crafted with great depth, complexity and structure, they offer superb drinking as young wines but have the ability to age gracefully for many years.
Shiraz Viognier

An elegant ripe, spicy Shiraz lifted by the added floral zing of Viognier. Soft tannins and oak notes round it off beautifully.

Cabernet Sauvignon

Smooth, velvety, this wine oozes rich red cherry and blackcurrant fruit flavours and has a lovely long finish.

Chardonnay

Vibrant flavours of grapefruit, spice and white peach entwined with subtle oak and lively acid. What finesse!

Sauvignon Blanc

The benchmark of West Australian Sauvignon Blanc. Zingy gooseberry and lemon flavours with a crisp, dry finish that bursts from the battle.

Riesling

A fresh, rich and wonderfully elegant wine, with its luscious lime and citrus flavours balanced by fine, natural acidity.
Alkoomi White Label
Five soft, fruit-driven wines including Cabernet Merlot, Shiraz, Late Harvest, Semillon Sauvigon Blanc and Unwooded Chardonnay. These medium bodied wines have been made to be enjoyed young while the reds maintain a quality and structure that will see them develop well for several years.
Cabernet Merlot

Blackcurrant and cherry aromas and a sweet berry palate, balanced by hints of spicy oak. Delicious with lamb or pasta.

Shiraz

Big palate flavours of juicy red cherry and mulberry with soft tannins and a subtle touch of oak. Ideal with red meats.

Late Harvest

Rich tropical fruit flavours with a clean acid balance. Brilliant as an aperitif and luscious with light style desserts.

Semillon Sauvignon Blanc

Fine and elegant with lifted herb, lemon and gooseberry aromas, an intense palate and a clean finish. Perfect with seafood and chicken.

Unwooded Chardonnay

Rich and elegant with sweet peach and melon fruit flavours. A most attractive unwooded style to be enjoyed now. Great with fish or pasta.
Adelaide Pacific Co., Ltd.
Contact Cathy Cheng
Address: 2F., No.156, Sec.1, Fusing S. Rd., Taipei,106,Taiwan, R.O.C
Phone: +886 2 27775779#160 Facsimile: +886 2 27115959 Email: wine@finewine.com.tw