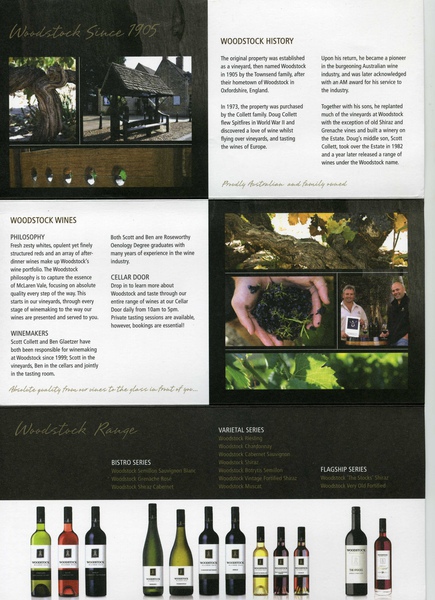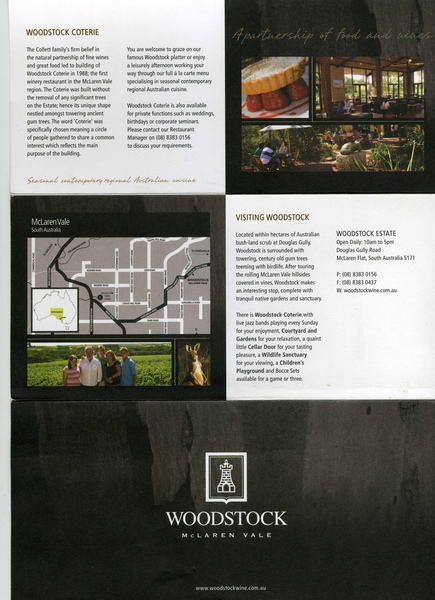 WOODSTOCK HISTORY
The original property was established as a vineyard, then named Woodstock in 1905 by the Townsend family, after their hometown of Woodstock in Oxfordshire, England.
In 1973, the property was purchased by the Collett family. Doug Collett flew Spitfires in World War II and discovered a love of wine whilst flying over vineyards, and tasting the wines of Europe.
Upon his return, he became a pioneer in the burgeoning Australian wine industry, and was later acknowledged with a AM award for his service to the industy.
Together with his songs, he replanted much of the vineyards at Woodstock with the exception of old Shiraz and Grenache wines and built a winery on the Estate. Doug's middle son, Scott Collett, took over the Estate in 1982 and a year later released a range of wines under the Woodstock name.
WOODSTOCK WINES
PHILOSOPHY
Fresh zesty whites, opulent yet finely structured reds and an array of after-dinner wines make up Woodstock's wine portfolio. The Woodstock philosophy is to capture the essence of McLaren Vale, focusing on absolute quality every step of the way. This starts in our vineyard, through every stage of winemaking to the way our wines are presented and served to you.
WINEMAKERS
Scott Collett and Ben Glaetzer have both been responsible for winemaking at Woodstock since 1999; Scott in the vieyard, Ben in the cellars and jointly in the tasting room.
Both Scott and Ben are Roseworthy Oenology Degree graduates with many years of experience in the wine industry.
CELLAR DOOR
Drop in to learn more about Woodstock and taste through our entire range of wines at our Cellar Door daily from 10am to 5pm. Private tasting sessions are available, however, booking are essential!
WOODSTOCK RANGE
BISTOR SERIES
Woodstock Semillon Sauvignon's Blanc
Woodstock Grenache Rose
Woodstock Shiraz Cabernet
VARIETAL SERIES
Woodstock Riesling
Woodstock Chardonnay
Woodstock Cabernet Sauvignon
Woodstock Shiraz
Woodstock Botrytis Semillon
Woodstock Vintage Fortified Shiraz
Woodstock Muscat
FLAGSHIP SERIES
Woodstock "The Stocks" Shiraz
Woodstock Very Old Fortified
WOODSTOCK COTERIE
The Collett family's firm belief in the natural partnership of fine wines and great food led to building of Woodstock Coterie in 1988; the first winery restaurant in the McLaren Vale region. The Coterie was built without the removal of any significant trees on the Estate; hence its unique shape nestled amongst towering ancient gum trees. The word "Coterie' was specifically chosen meaning a circle of people gathered to share a common interest which reflects the main purpose of the building.
You are welcome to graze on our famous Woodstock platter or enjoy a leisurely afternoon working your way through our full á la carte menu specializing in seasonal contemporary regional Australian cuisine.
Woodstock Coterie is also available for private functions such as weddings, birthdays or corporate seminars. Please contact our Restaurant Manager on (08) 8383 0156 to discuss your requirements.
VISITING WOODSTOCK
Located within hectares of Australian bush-land scrub at Douglas Gully, Woodstock is surrounded with towering, century old gum trees teeming with birdlife. After touring the rolling McLaren Vale hillsides covered in vines, Woodstock makes an interesting stop, complete with tranquil native gardens and sanctuary.
There is Woodstock Coterie with live jazz bands playing every Sunday for your enjoyment, Courtyard and Gardens for your relaxation, a quaint little Cellar Door for your tasting pleasure, a Wildlife Sanctuary for your viewing, a Children's Playground and Bocce Sets available for a game or three.
WOODSTOCK ESTATE
Open Daily: 10am to 5pm
Douglas Gully Road
McLaren Flat, South Australia 5171
P: (08)8383 0156
F: (08)8383 0437
Adelaide Pacific Co., Ltd.
Contact Cathy Cheng
Address: 2F., No.156, Sec.1, Fusing S. Rd., Taipei,106,Taiwan, R.O.C
Phone: +886 2 27775779#160 Facsimile: +886 2 27115959 Email: wine@finewine.com.tw
業務聯絡人:鄭小姐(Cathy Cheng ) / 電話:02-2777-5779 分機160
e-mail: wine@finewine.com.tw
雅得蕊提醒您「酒後不開車‧安全有保障」